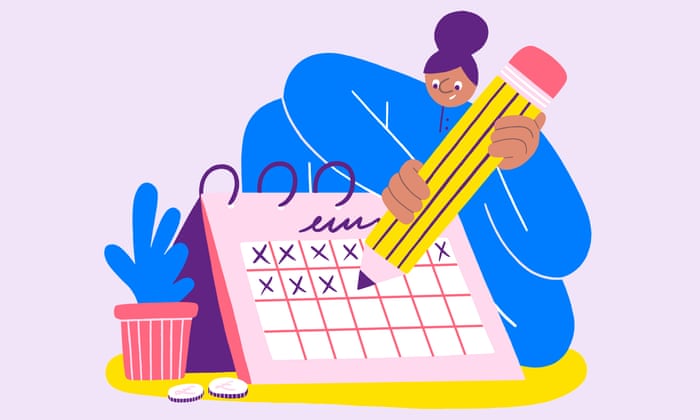 What does adulthood even look like in 2021? Once upon a time, there were four milestones: career, home, marriage and babies. Now, the definition of success is shapeshifting. The TL/DR version can be distilled to "you do you". Whether that means starting a business, consciously choosing the single life or taking action to drive the changes we want to see in the world, the old myths about what it really means to survive as a grownup in a complicated world are busted. Here's a snapshot of what it means to be a young adult right now …
We're a generation of entrepreneurs
The average age of an entrepreneur used to be 40, based on Companies House data, but a recent survey of 2,502 young people carried out by Censuswide for GoDaddy found that 9% of 16- to 24-year-olds have started their own business since February 2020, with a further one in five stating that they have a concrete business idea that they are currently setting up.
We're OK living with our parents …
A fully stocked fridge and someone else to water your houseplants? Yes, please. According to figures from the Office for National Statistics (ONS), the age at which most people leave their parental home is now 23, up from 21 two decades ago.
… because it saves us a ton of money
Getting on the property ladder may take hard graft, but we're prepared to do whatever it takes to save for a deposit, as the one in five millennials who moved back in with their parents will testify. Persist and we'll reap the benefits, right?
What we really want is a home of our own
And the homeowning dream is achievable, promise. Take heart in the pre-pandemic figures from Statista, which show that the number of first-time buyers had steadily risen between 2011 and 2019, with more than 355,000 first-time home buyers in 2019.
We care about self-care
The figures from Deloitte's June 2020 study show that looking after our mental health is more important than climbing the career ladder, with 48% of Generation Zs and 44% of millennials ranking it either first or second on their list of priorities.
We've found the modern answer to commitment and companionship
And it comes in an adorably furry package. According to the Pet Food Manufacturers' Association, more than a third (35%) of young adults aged 24 to 35 have either brought a new pet home or are planning to get one, meaning millennials are likely to be one of the generations with the highest level of pet ownership. That equates to 2.1 million people collecting a new pet in lockdown and 1.8 million planning on doing so.
We're not that fussed about marriage
With 242,842 couples tying the knot, marriage is at a record low, according to the most up-to-date figures from the ONS. In fact, the marriage rate for opposite-sex couples has been declining year-on-year since the early 1970s to their lowest level on record. Considering the average wedding costs somewhere between £18,000 and £32,000, putting this off or forgoing the tradition completely means a healthy chunk of savings to go towards a house downpayment, enriching experiences or setting up a business. You're free to create your own path.
We know our limits
A 2018 study published in the journal BMC Public Health, found more young people were abstaining from alcohol entirely, with 29% of those aged between 16 and 24 saying they didn't drink at all.
We're more likely to dip into our savings
A recent YouGov poll found that among all Britons, younger people are the most likely to spend what they have saved during the pandemic. A quarter of 18- to 24-year-olds (25%) plan on using half or more of their savings in the last year, which is the highest of any group. But before you rush out for some retail therapy, it's worth remembering that according to the Money Advice Service, the rule of thumb of emergency savings is for young people to have three months' essential outgoings available as a cushion in case they run into financial difficulty.
We're having kids when it's right for us
According to ONS figures, the average age of a first-time mother was 29 in 2016, two years later than in 1997. More generally, the average age of a mother in England is 30, with this standing at 33 for fathers.
We're taking action to drive the changes we want to see …
The Deloitte Global 2021 Millennial and Gen Z Survey found that a quarter (26%) of this year's surveyed millennials and a third of Generation Zs said they participated in public demonstrations, protests, or marches in the past 24 months. But it's not just about getting out on to the streets – we're taking our values into the workplace, too. According to Deloitte, half of Generation Zs (49%) and 44% of millennials have made choices over the type of work they are prepared to do and the organisations for which they are willing to work based on their personal ethics.
Whether your idea of adulthood is saving for a house deposit or a new puppy, let nothing hold you back. One way to start hitting your goals is to focus on tomorrow, today. If you're a NatWest customer, you could use the Spending Tracker* in the NatWest app** to start managing money like a boss, or set up a Savings Goal*** to help keep you on track when you save.
Ready for your next adulting adventure? Find out more from NatWest
*You must be aged 16+ to view Spending in the NatWest App. Spending feature only available for Personal and Premier accounts.
**NatWest App available to customers aged 11+ with compatible iOS and Android devices and a UK or international mobile number in specific countries.
***NatWest Savings Goal Tool available within mobile or online banking. Only available with Instant Access Savings accounts.