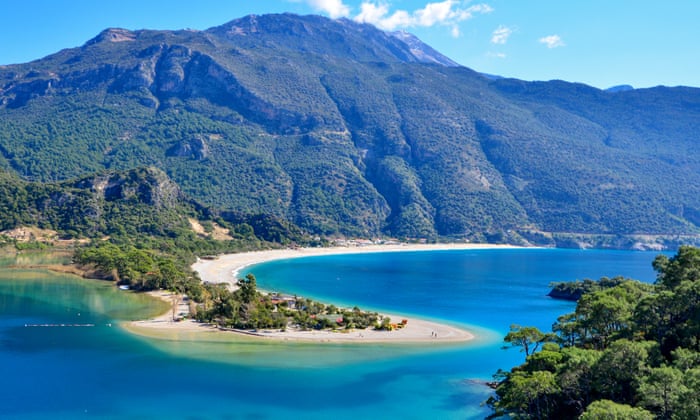 We're sprawled under mulberry trees on a Turkish divan – a rickety platform strewn with kilim cushions and low tables – wondering how it gets better than this: gorging on freshly squeezed pomegranate juice and traditional gözleme, a Turkish crepe cooked over an open wood fire and filled with crumbly white cheese and spinach, after our walk through the "ghost village" of Kayaköy.
This tranquil tableau of crumbling homes and hearths, hillside chapels and pathways – which inspired Louis de Bernieres's epic novel Birds Without Wings – sits among south-west Turkey's outstanding collection of classical-era archaeological sites. But after seeing our share of 2,000-year-old temples, theatres and tottering colonnades at the likes of Patara and Xanthos, Tlos and Pinara, it's something else to wander the sun-bleached shell of this village, abandoned amid geo-political turmoil early in the last century. There's something of interest for all of us, whether it's the lessons of Turkey's recent history (the adults), the many tortoises and goats (the children) or the promise of the gözleme (the teenagers).
This alluring corner of Turkey has been welcoming holidaymaking families for decades – and creating lifetime returnees of many. It's easy to see what brings them back, not least because it's home to world-class resorts, such as Hillside Beach Club (more about that later), but also because of the exceptional variety of activities on offer. From Kayaköy, we're headed just around the corner to take the leap from the almost 2,000-metre summit of Babadağı mountain, the starting point for one of the world's great paragliding rides. After an exhilarating 20 minutes in the air, in tandem with experienced pilots, we put down with barely a bump on the beach at the popular resort of Ölüdeniz.
Talking of beaches, some of the Mediterranean's best are found along Turkey's Turquoise Coast, as the concertina of island-strewn bays and pine-clad coves around the port city of Fethiye is known. To understand why the name has stuck, look no further than the exquisite family-friendly lagoon at Ölüdeniz or the magnificent pristine strands at Dalyan and Patara – where an enforced ban on development protects the populations of nesting loggerhead turtles. Elsewhere along the coast, a full range of watersports including sailing, sea kayaking, paddleboarding, wakeboarding and scuba are widely available.
On land, the roster of activities is no less impressive, with the region's network of way-marked walking trails especially hard to beat. Chief among these is the 300-mile Lycian Way from Fethiye to Antalya, one of Turkey's greatest walking routes. Others choose to explore dramatic canyons such as Saklikent or go mountain biking, while those looking for something more gentle take to boats, snorkelling and sunning themselves among the so-called "Twelve Islands" (there are in fact more) scattered across Fethiye Bay.
With all this and a restorative Turkish bath to squeeze in, not forgetting the excellent shopping, it's often a case of stretching the day to make time for Fethiye's atmospheric fish market, where guests have only to pick from the heaped seafood stalls for their selection to appear, cooked to order, at their table.
Add to this the winning hospitality of the locals, and the season-long sunshine, and it only remains to decide on the best place from which to enjoy the Turquoise Coast. Look no further than Hillside Beach Club, tucked into the most perfect of Fethiye Bay's endless nooks and crannies. Nowhere along the coast nails the needs of families quite like this resort, backed by lush forests and fronted by three private beaches. In the main beach, you'll find a world-class watersports centre offering every conceivable boarding or boating activity – even barely conceivable ones such as fliteboarding, a motorised surfboard which allows users to hover over the waves at high speed. Other beaches offer kid-free escapes for the adults (add beachfront cocktails), and a protected 300-metre swimming lane.
Hillside Beach Club offers facilities for every family, regardless of the age of its members. Older children can join their parents for a range of family activities including yoga classes, sailing and diving lessons, and creative arts workshops, while there's a "baby park" for infants up to three, plus a baby buffet and even a dedicated chef to cater for the more demanding tastes of toddlers in the main restaurant. More developed tastebuds are catered for with a spread of Turkish, Mediterranean and Italian flavours, open grills, wood-fired ovens, and the all important ice cream corner. In short, the place – like the Turquoise Coast itself – has it all. Truly, it doesn't get better than this.
Book your Turquoise Coast break at ba.com/hillside
With British Airways Holidays, you can reserve your well-deserved break with deposits starting from just £60 per person and pay the balance in as few or many instalments as you like*. All package bookings are ATOL-protected (5985) and include a 23kg baggage allowance per person. Their Customer Promise is a commitment to quality and service that ensures that their hotel partners adhere to strict safety standards, you'll get a speedy refund should your holiday be cancelled and there's a 24-hour helpline if you need any assistance on your holiday – just some of the reasons why 92% of customers** say they would choose British Airways Holidays again.
*T&Cs apply. Deposit balance due 7 weeks in advance for long haul and 28 days in advance for short haul. Travel restrictions may apply.
**From over 27,000 independent Reevoo reviews in the last 12 months – as at March 2022